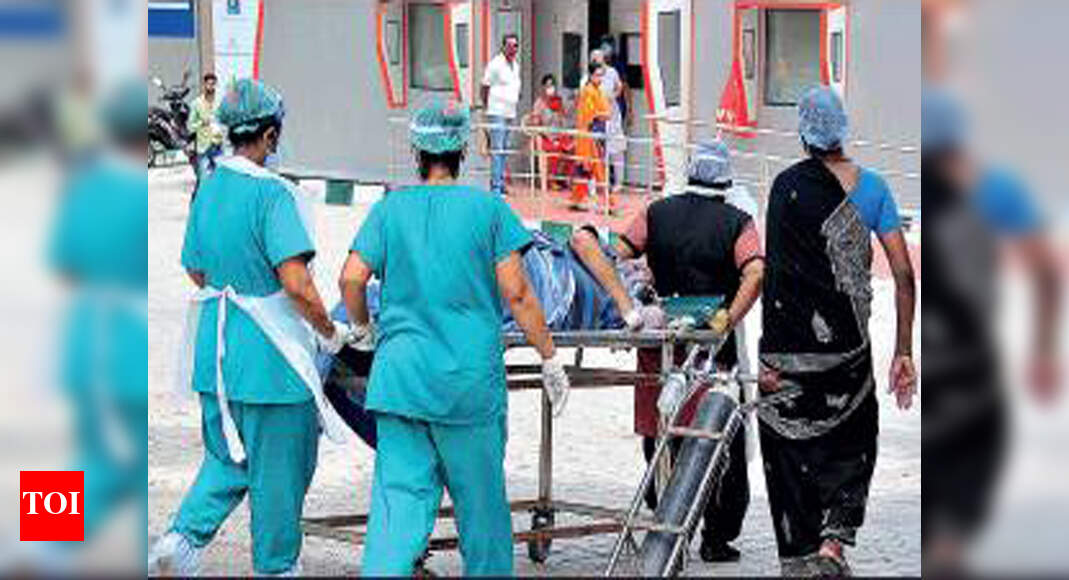 BENGALURU: In shocking inferences, Karnataka's expert panel believes the sudden increase in mucormycosis, or black fungus infections, among people who have recovered from Covid-19 is possibly due, in some cases, to the use of industrial oxygen for medical purposes and, in others, due to patients sharing oxygen cylinders.
"Unlike medical grade oxygen, industrial oxygen is not sterile," said Dr Sujata Rathod, director, Minto Ophthalmic Institute and member of the panel. "Hygiene of cylinders would have been compromised. Also, we have been told that given the huge demand, in some cases oxygen cylinders were shared by two different patients, who used them for a couple of hours each. This also could have led to infection."
On Monday, health minister K Sudhakar said as per the committee's report, contaminated water used in the humidifier, excessive use of steroids, unsterilised medical equipment, prolonged use of the same mask, tubes and beds are primary sources of infection. "The report also suggests halting building renovation work in Covid hospitals, banning outsiders from ICU wards and ensuring hygiene in clinical facilities," Sudhakar said. He said patients who recover from Covid must undergo an ENT check. "On the 3rd, 7th and 21st day a checkup is necessary," he said.
In addition, steroid and Covid-induced diabetes that goes unchecked post discharge is also a reason for increasing cases of mucormycosis, say doctors.
"It's a vicious circle," said Dr Bhujang Shetty, member of the expert panel. "In many people, Covid triggers diabetes as it affects the functioning of beta cells in the pancreas that produce insulin. Steroids also induce diabetes. This results in low immunity leading to the fungal infection. Not many bother to check for diabetes post discharge."
With black fungus patients needing to stay in hospital for at least 15 days, doctors warn against the need to prevent infections given the acute shortage of beds. "Those who recover from Covid must keep a watch on their sugar levels," Dr Shetty said.
Dr Rathod said 99% of mucormycosis patients have diabetes. "The Covid disease per se alters insulin production in the body. Those with borderline diabetes become fullblown diabetics," said Dr Rathod. Once diabetes is out of control, immunity is compromised, she said.